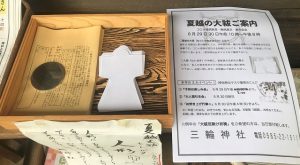 Nagoshi no Oharae (summer purification ceremony) will be held on 29 and 30.
This event is conducted to remove the impurities accumulated in the six months, and to cleanse our mind and body to pass rest of 6 months including the hot summer.
Please write down the names of all families on Hitogata (human-shaped) paper and puff your breath on the paper, then give it to the priest. He will purify it. The paper is distributed in front of Haiden.
Following events will be held on 29 and 30. Please wear masks during the events.
June 29 5:00pm
Recreation for kids will be held.
June 30 10:00am to 8:00pm
Visitors can enjoy a raffle.
4:30pm
The ritual to burn charms and talismans will be held.
The shrine will open from 10:00am to 8:00pm on both day.
We are waiting for your visit.