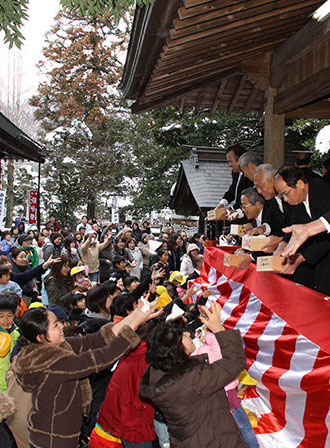 Setsubun literally means "division of seasons" and has now come to mean the day before the first day of spring.
On the day of Setsubun, Feb 3, we usually hold an event throwing and scattering beans (Mamemaki). It is believed that throwing beans make evil go out and fortune come in. We usually throw about 3000 bags filled with beans.
This bean-throwing event will not be held this year from the perspective of preventing the spread of coronavirus infections.
Setsubun ritual will be held on the morning of Feb 3, and the prayed Fuku-mame (beans) will be distributed to guests instead of holding bean-throwing event. (First 500 people)
On this day, private Setsubun ceremony will be available. (Reception on the day)
Setsubun Yakuyoke (warding off calamity and protection from evil)
Fee: 10,000 yen
Gifts: amulet and charm, Fuku-mame beans, wooden box for the beans
Reception 10:00~16:30
Distribution of Fuku-mame beans 10:00~16:30